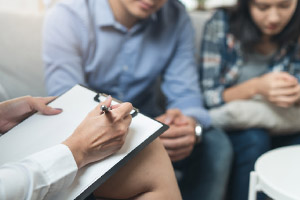 Getting married is one of the most committed ways in which we can show our love for someone – but when the honeymoon period is over and reality begins to bite years down the line, doubt can start to creep in. When it's time to navigate troubled waters with your partner, marriage counseling can help.
Millions of people get married every year – about half of the population has pledged their commitment through marriage – and yet many will go on to get divorced. In fact, about 39 per cent of marriages in the US end in divorce (Time 2018).
The end of a marriage can be a stressful and unhappy outcome for some couples, especially when at the core of the relationship love still exists. Sometimes, guidance from an external source can help provide insight into what went wrong and help couples rediscover that love that's been buried beneath life's troubles.
Whether you've reached a point at which you'd like to try therapy, or just want to know more about how marriage counseling can help couples through tough times, you can find out all you need to know from the experts.
A thought leader in couples' transformations, Dr Kevin Fleming of Grey Matters International has devoted decades to helping married couples work through their differences, many of whom have been able to reconnect and resurrect their relationships in the process.
Dr Fleming commented: "For anyone who's thinking of embarking on marriage counseling, or who wants to understand more about how the process works, this concise Grey Matters' Guide provides all the answers to so many questions.
"How marriage counseling works, what it can achieve and where to find a counselor are common queries. We've created this Q&A to provide some solid guidance in a single place and hope it will be of benefit to anyone looking for answers about marriage counseling."
How marriage counseling works
When you decide it's time to work on your marriage, you might choose to give counseling a try. Marriage counseling is a type of therapy usually delivered as a one-to-one service, between a couple and their counselor. Sessions may take place at the therapist's offices or somewhere the couple feels comfortable.
Marriage therapists can be licensed or certified – depending on the state – and are required to hold a master's degree or a doctorate in a related field to deliver counseling. They are also required to act professionally when dealing with clients, reserving judgement and opinion on sensitive issues (European Foundation for Psychologists and Analysts 2019).
Sessions may be delivered by the therapist with both individuals present or alternatively, there may be some single-person sessions, too.
Who is marriage counseling for?
Marriage counseling is a type of therapy designed especially for couples who are married, or who are getting married. Usually, marriage counseling is sought by people who are already wed, but in some cases couples might decide to have some sessions before they get married.
Individuals may have marriage counseling before the ceremony if such a practice is part of their religion; other couples might decide to have pre-emptive marriage counseling before their big day to iron out any potential problems and help them begin their new lives together on the same page.
Studies have highlighted that premarital education can help promote happier, more satisfying experiences of marriage after the big day. Research published in the Journal of Family Psychology, for example, has highlighted that Americans who participate in premarital education report higher levels of commitment and satisfaction once married, along with lower levels of conflict and reduced odds of divorce (Stanley et al 2006).
The findings suggest that having marriage counseling before actually tying the knot could well be beneficial in promoting longer lasting, more fulfilled nuptials.
Marriage counseling is an option for anyone who wants to work on their marital relationship, at any time. People from all backgrounds, ethnicities and faiths can benefit from working to overcome issues and get to know their partner better, regardless of how long they've been married or engaged.
Once married, therapy is commonly sought following the onset of a problem, such as constant rowing, infidelity or substance misuse, or because a couple feels that they are drifting apart. The sooner counseling begins, the better chance the couple has of achieving the successful outcome they desire.
When to get marriage counseling
When to seek marriage counseling depends on each couple's own circumstances, but the answer is often as soon as one spouse notices that something isn't right.
Whether you've become distant and don't know how to connect anymore, are arguing all the time or are perhaps dealing with a particular incident that's caused a rift, seeking marriage therapy as soon as possible can make a difference to your chances of success.
The best time to seek marriage counseling is when any of the following occur:
Broken trust
Trust between spouses can be broken in number of ways. One or both people may be contemplating or having an affair; perhaps one half of the couple has hidden something or deceived the other in some way, or maybe there's a financial secret that's caused a breach of trust.
Disconnection
Becoming distant to the point that you feel you don't know one another anymore, or don't interact often enough, can be another reason for seeking out marriage therapy. One spouse may feel neglected or ignored, or maybe both sides feel that the other isn't making any effort to connect.
Conflict
Rowing all the time isn't healthy. If you find you and your spouse are arguing often, or about the same things, it's a sign that now could be the right time to identify where the issues stem from through marriage counseling.
Life-changing events
Events in life can have a massive impact on us all, and sometimes, the effects can be devastating. Loss of a loved one, a mental breakdown and long-term unemployment are all potentially life-changing events that can take their toll on a relationship.
Lack of intimacy
Over time, the spark of desire can fizzle out. Keeping intimacy alive can be difficult, especially if you're fitting closeness in around a busy lifestyle. Marriage therapy can help you rekindle that spark and rediscover how to be intimate with one another.
When someone needs to change
Feeling that your spouse needs to change for things to get better is a sign that the marriage could benefit from some external input. It's not possible to change anyone other than ourselves but marriage counseling can help each side express themselves, facilitating understanding and progress.
These are just several examples of when marriage counseling could be a productive option. Feeling that something isn't quite right can occur at any point in married life but support is available to help you get back on track wherever you're at in your marital journey.
Where to get marriage counseling
There are lots of options if you decide to give marriage counseling a try. Whether you want to work on your marriage in private or attend a specialized retreat with your spouse, there are marriage therapy options to suit everyone.
If you're wondering where to get marriage counseling, the answer is: wherever you're most comfortable. Some suggestions include:
Your doctor
If your marriage has been getting you down, your first port of call may be the doctor's office. Once the physician has identified marital troubles as the cause, they may be able to refer you to a specialist or suggest options you could try within the community.
Marriage retreats
Some couples benefit from removing themselves from the everyday and attending a retreat where they can focus solely on their relationship. Some retreats prioritize individual or group therapy; others focus on other areas of the relationship, such as building bonds.
A local therapist
It might be most convenient to find a local marriage counselor whom you can see regularly. There are many marriage therapists to choose from, so do some research to find someone who's suitable for you. Recommendations from friends and family can be a good place to start.
Concierge marriage therapy
If you lead busy lives or want the reassurance of a skilled therapist who can work around your schedule, the most effective option for your marriage could be a concierge option. Concierge-based marriage counseling can be delivered at a time and place that suits you.
Your preacher
If you follow a faith, your preacher may be able to help. Some religions have designated clergy or ministers who can offer marriage counseling in line with the teachings of the faith. Others may be aware of religious organisations that offer marriage counseling and can make recommendations.
How to choose the right marriage counselor
Possibly the most important factor when looking for marriage counseling is choosing the right therapist – someone who understands you and your partner, who's qualified to offer effective services and who can really help you work towards your goals.
Marriage counselors comes in all varieties – some are specialized, others are qualified in specific areas but have enough related knowledge and experience to offer marriage therapy services. Deciding on the right therapist isn't easy, which is why it helps to have some guidance before you make any firm plans.
Dr Fleming commented: "Choosing the right marriage counselor can be key to achieving successful results. It's important to look for a counselor you both like, as well as someone who will work diligently to help both parties make progress. I've put together some pointers to bear in mind when seeking out a counselor to help you work through marital issues for the best outcome."
To ease the process of choosing a marriage counselor, take a look at Dr Fleming's top tips below.
Dr Fleming's top 3 tips for choosing a marriage counselor
1) Get real
Many people seeking marriage help have had prior attempts at change–be it with a counselor of some type or "on their own", trying to get things worked out. Both avenues require parties to 'get real' with what really is going on and what their own part in the madness is. There is no sense in paying money on a counselor and a perceived fit when your assumptions about reality are skewed….for, no matter the person, you will get the same outcome over and over.
2) Read the reviews
Letting someone into this private side of your lives is a big step for many couples, so being able to trust the person you choose to deliver therapy is really important. If you're starting from scratch and haven't worked with a therapist before, spend some time checking out reviews and testimonials before getting in touch with a marriage counselor.
Once you've checked up on the therapist's professional credentials, find out what previous clients have said about the counselor and the service they offer. You might read reviews online, testimonials via the therapist's website or responses on social media. Alternatively, you might receive word of mouth recommendations – not everyone wants to leave their details somewhere visible.
3) Find out if you get along
Once you've made sure that the therapist you're considering has the right credentials and a good track record, it's time to find out whether you'll get along with the therapist and feel comfortable working with them. Get in touch to arrange a call and see how the conversation flows, whether you feel a rapport with the counselor and whether you think you can rely on them to deliver the help you need.
It might not be possible for both spouses to speak to the counselor over the phone, but you should get a good feel for the therapist at your introductory session. Ask yourselves whether you feel comfortable enough to open up, whether the conversation is balanced and what your gut instinct is – but bear in mind that marriage counseling can bring out some emotions that won't always be easy to deal with.
Covering all three bases should give you a good indication of the level and style of service offered by a marriage counselor, so you can make an informed choice about whether a therapist is a good fit for you.
What are the benefits of marriage counseling?
Marriage counseling is associated with a range of benefits in wedded relationships. When both spouses can express themselves freely in a non-judgemental environment and are challenged to see the relationship from their partner's viewpoint, progress can be made in a variety of areas, including:
Better communication
Poor communication is often the root of disagreement. Marriage counseling seeks to give both spouses opportunity to put their point across, express how they feel and explore underlying motives and influences. When each person can open up in therapy, they reveal their thoughts and emotions in a way that helps their partner understand things from the other side.
Improved intimacy
Talking about what's really important and allowing someone to access your innermost thoughts can help couples feel closer. When the process is reciprocated on both sides, it's possible for people who have felt disconnected or distant to rebuild trust and intimacy, building a more connected marriage.
Conflict resolution
Rowing and conflict are key indicators of a marriage in trouble. Through relationship therapy, couples are encouraged to assess how they react during spousal conflict, what the results of that reaction are likely to be and how they can change their responses. Learning how to communicate a point in a regulated way can help resolve rather than exacerbate conflict.
Enhanced happiness
Arguing all the time or feeling disconnected and down in your marriage can cause general unhappiness. Feeling that something isn't right in a relationship but taking steps to overcome those issues can help resolve conflict, build a stronger bond and help both parties feel more valued, lifting spirits and enhancing feelings of happiness.
Improved resilience
Marriage therapy isn't easy – both sides will be challenged to look at their own behavior as well as each other's. Some subjects may come up for discussion that are hard to handle, and both sides may have things to say that are difficult to hear. From this uncomfortable feeling, however, change can take place – a couple can become more proactive and resilient as a result.
Better self-esteem
Marriage counseling is an opportunity to iron out problems and assess difficulties in a relationship – but it's also an opportunity to rediscover your partner's strengths. Identifying and valuing what each person brings to the relationship, taking the time to notice the little things or perform simple gestures can make the other person feel good about themselves, boosting their self-esteem and making both sides feel good.
There are many benefits associated with effective marriage counseling – both for couples planning to tie the knot and for those who are already married. It's all too easy to get bogged down in life's distractions; taking the time to work on a relationship through marriage counseling shows a level of commitment to making changes for the better.
To find out more about how marriage counseling could help improve your relationship, contact Dr Fleming at Grey Matters International today.
https://greymattersintl.com
(877) 606-6161
[email protected]
Sources:
Time (2018) The Divorce Rate Is Dropping. That May Not Actually Be Good News https://time.com/5434949/divorce-rate-children-marriage-benefits/ Date Accessed: 07/25/2019
European Foundation for Psychologists and Analysts (2019) Marriage Counseling http://www.efpa.be/marriage-counseling.htm Date Accessed: 07/25/2019.
Stanley, S. M.; Amato, P. R.; Johnson, C.; H. J. Markman. (2006). Premarital education, marital quality, and marital stability: Findings from a large, random household survey. Journal of family psychology : JFP : journal of the Division of Family Psychology of the American Psychological Association (Division 43). 20. 117-26. 10.1037/0893-3200.20.1.117. https://www.researchgate.net/publication/7210426_Premarital_education_marital_quality_and_marital_stability_Findings_from_a_large_random_household_survey Date Accessed: 07/25/2019.